The Pax Mongolica is a Latin phrase used to describe the era of extended peace, social stability, and economic prosperity brought on by the Mongol conquests of 13th and 14th centuries. The Mongolian expansion helped to revolutionize commercial and communicative technology under a unified administration. Under this unified state, many Eastern innovations such as gunpowder, paper, and money were spread throughout the rest of the world. This article describes the benefits of the Pax Mongolica.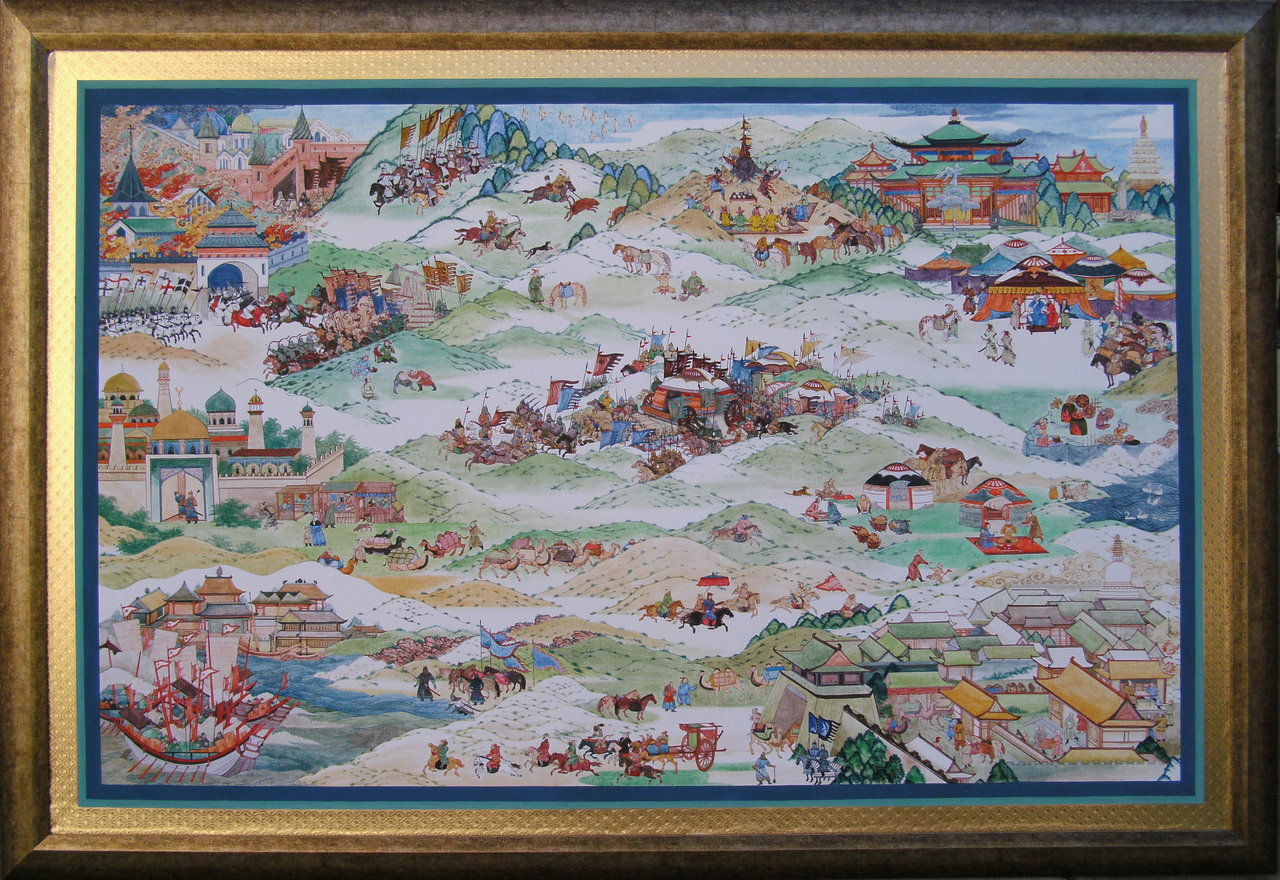 At its height, the Mongolian Empire stretched over 9,300,000 square miles and held governance over 100 million people. The unification of such a vast region allowed for unparalleled connection over 16% of the earth's total land. This, along with the Mongolian support of merchants, and the creation of an infrastructure that enabled safe travel, lead to the creation of a complex trade web for the first time allowing integrated trade between Asia and Europe. Control of all the trade routes within Mongol territory was a cornerstone to Mongolian expansion and prosperity. Since the Mongols relied so heavily on trade, they made travelling across their lands incredibly easy and safe. This helped promote communication from one end of their empire to the other.
"The road you travel from Tana [Azov] to Cathay is perfectly safe, whether by day or by night, according to what the merchants say who have used it. Only if the merchant…should die upon the road, everything belonging to him will become the perquisite of the lord of the country in which he dies"
-Marco Polo in his commercial handbook
During the Pax Mongolica, the Mongols developed and used a postal system connecting all points of the empire dubbed Yam. Yam was a system of supply points spaced roughly 150 miles apart to resupply mail couriers. Yam was originally created so that messages to and from the khan would be completed with the utmost swiftness. Though, it was soon used for an assortment of tasks. A mail runner would travel from one station to the next flashing an official badge to receive a fresh horse and equipment or to pass the message or parcel to the next runner. Due to the increased security of the Pax Mongolica, these mail runners could move unimpeded by weapons for self defense.
The success of the Pax Mongolica demonstrates many of the benefits of having an overarching government. The connection and dispersal of ideas across the facets of humanity displays the potential for a Global civilization. Unfortunately the age-old problem still exists: when do safety and security encroach on personal freedom?